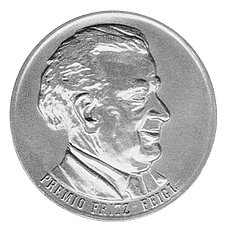 FRITZ FEIGL
---
Fritz Feigl (*1891 in Vienna –†1971 in Rio de Janeiro) obtained 1914 a diploma in chemical engineering from the Vienna University of Technology and his PhD in 1920 from the University of Vienna, where he also achieved his Habilitation. In 1936 he was promoted to Assoc. Professor of Inorganic and Analytical Experimental Chemistry.
Feigl was forced to resign from his position in 1938. As a consequence he first emigrated to Switzerland, and from there he moved to Ghent (Belgium), where he worked at the Société Belge de Recherches et d'Etude. After the Nazi invasion of Belgium in 1940 he succeeded to escape to Brasil undertaking a perilous journey via Southern France and Portugal together with his family. There he headed the Laboratory of mineral products in the Ministry of Agriculture from 1942-1961 and held a professorship at Universidade Federale do Rio de Janero.
Fritz Feigl earned worldwide academic reputation during his career. Most notably, he pioneered microanalysis and established spot tests as a valuable tool in Analytical Chemistry and Medicine. The symposium will be held to honor this outstanding scientist. It will cover talks from all areas of Analytical Chemistry.
---
Institut für Analytische Chemie
Universität Wien

Währinger Straße 38
A-1090 Wien
T: +43-1-4277-52301
F: +43-1-4277-9523